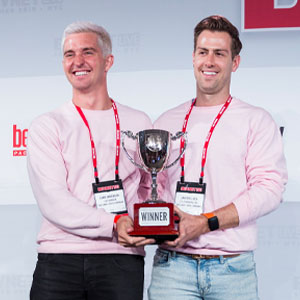 Cann co-founder and CEO Jake Bullock saw entrepreneurship as a way to break free from what he described as the path dependency of corporate life, but more importantly because he wanted "to build something big." Cann is getting closer to meeting his ambition.
Launched in 2019 by Bullock and co-founder Luke Anderson, Cann markets "microdosed social tonics" that are infused with 2mg of THC and 4mg of CBD and marketed as delivering "a perfect, uplifting buzz with a strength similar to a beer or glass of wine" with no hangover. The brand, which also sells an "Unspiked" line, is currently available for purchase in 33 states and throughout Canada. 
Amid a gradual loosening of cannabis laws in the U.S., Cann has positioned itself as an attractive and accessible option for canna-curious and sober-curious consumers. The brand's cultural relevance is also supported by an A-list roster of celebrity investors, including Gwyneth Paltrow, Kate Hudson, Rosario Dawson and Nina Dobrev, the latter of whom joined the company as a shareholder as part of its $27 million Series A round, which was announced in February 2022.
While Cann is the most visible and distributed cannabis-infused drink brand in the U.S., it's still a long way from becoming a household name. What will it take for that to happen and how does Cann build upon its carefully planned foundation? Bullock answered those questions and discussed much more about the brand's ascendancy in this episode.
0:43: Interview: Jake Bullock, Co-Founder & CEO, Cann – Bullock met with Taste Radio editor Ray Latif in New York City where they reminisced about Cann's victory in BevNET Live's New Beverage Showdown 17 and how the competition "set the trajectory for the company," before the entrepreneur discussed a recently bestowed honor from

Food & Wine

magazine. Bullock also spoke about the importance of community based, on-the-ground education, the regulatory framework for selling cannabis-based beverages, the common issue that links Cann's consumers and why older adults are a key base for the brand. Later, he explained how Cann sits at the intersection of canna- and sober-curious, why he believes buzz gives the brand an edge over non-alcoholic RTD cocktails, how entrepreneurship provided him with "a very expensive education… after college" and what he learned about running a beverage company that he wished he'd known earlier. Bullock also explained why early-stage fundraising is about "finding the one," the company's scrappy strategy for getting product into celebrities' hands and attracting investment from them, walking a fine line when talking about cannabis as a safer ingredient than alcohol, why he took issue with a 2022

New York Times

article about "weed drinks," how Cann's commitment to innovative advertising and video-based content has paid off and why he believes brands "need an enemy in all marketing."