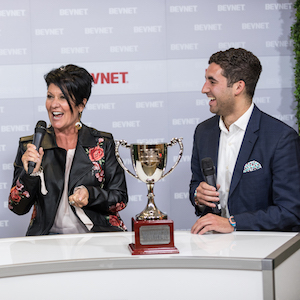 Brian Rudolph is a big believer in cold calling. The co-founder and CEO of Banza — a brand of chickpea-based pasta that's promoted as a protein-rich, gluten-free and nutritious alternative to traditional varieties — said that while rejection is to be expected with unsolicited outreach, persistence and civility have led to big wins for the company.
"We got rejected all the time," Rudolph said in an interview included in this episode of Taste Radio. "Sometimes people just don't answer, but you have to recognize that it's okay to follow up. And a lot times we wouldn't get a response until the fourth or fifth time. So many of our early retail relationships came from cold outreach. You'd be surprised; you can cold call the headquarters of a retailer and say 'who's the buyer for XYZ?' [and] you'll find who it is, and just leave them a voicemail. Of course, be polite, but be polite and relentless."
The tenacity has paid off for Banza, which just four years after its launch has become one of the top-selling pasta brands at Whole Foods and Target. Banza is carried at over 8,000 retail locations, is a category best-seller on Amazon and has attracted a rabid consumer following. As part of our interview, Rudolph spoke about the roots of his business, including the impact of Banza's appearance on a reality TV competition, why he's positioning the brand as an "agent of change," when to turn down new retail opportunities, and the company's innovative method for collecting consumer feedback.
Also in this episode: A conversation with MatchaBar co-founder/CEO Graham Fortgang. Positioned as a healthier alternative to traditional energy drinks and coffee, MatchaBar has embraced an unconventional approach to marketing its beverages and primary ingredient, ceremonial grade matcha. Fortgang discussed the company's approach to disrupting the energy category, how MatchaBar aligns with influencers and measures their reach and impact, and the company's process for identifying and providing value to its retail partners. We also sit down with founders of Simply Soupreme, Jackie Greene & Taylor Rossi, who were victorious in BevNET Live's New Beverage Showdown 15.
| | |
| --- | --- |
| | 2:10: Craven's Cooler: Jon Landis returns from his honeymoon, Mike offers his prediction for the World Cup final (spoiler alert?), and the hosts chat about a Brooklyn Crafted Happy Hour at BevNET HQ, a sampling of King's Brew Nitro-Infused Cold Brew Coffee, detoxwater Cryptokiwi and running into the founder of Chi Kitchen Kimchi. |
| | 11:45: Interview: Brian Rudolph, Co-Founder/CEO, Banza — Alongside his brother and co-founder Scott, Rudolph launched the chickpea-based pasta brand in 2014. In our interview, recorded at the 2018 Summer Fancy Food, Rudolph discussed the early days of Banza, how an appearance on CNBC's "Restaurant Startup" accelerated its growth, the company's mission to be "the Chobani of pasta," and the brand's approach to evaluating investment opportunities and attracting new retail partners. |
| | 33:05: Interview: Graham Fortgang, Co-Founder, MatchaBar — A fast-growing maker and retailer of matcha drinks, Fortgang launched the company with his brother Max in 2014.  The company operates cafes in New York and Los Angeles and its ready-to-drink beverages, which include a new sparkling matcha drink called Hustle, are sold in over 1,000 accounts, including nationwide at Whole Foods. At the 2018 Summer Fancy Food, Fortgang joined us for a conversation about how the company works with and provides value to its retail and influencer partners and measures the relationships using tangible metrics.  He also discussed MatchaBar recent completion of an $8 million round of funding that attracted investment from renowned DJ and music producer Diplo and NFL Super Bowl MVP Von Miller and an innovative marketing initiative launched in collaboration with Facebook and Whole Foods. |
| | 52:40: Interview: Jackie Greene & Taylor Rossi, Founders, Simply Soupreme — In our final interview of the episode, we're joined by Jackie Greene & Taylor Rossi, who are the founders of Simply Soupreme, a brand of super-premium bottled soups. Victorious in BevNET Live's New Beverage Showdown 15, Greene and Rossi were praised by the competition's judges for the Simply Soupreme's innovative flavor combinations, health-centric story and the ultra high quality of its products. Mike and I spoke with Jackie and Taylor following their big win and talked about their experience in the Showdown and the next steps for the company, which was awarded $10,000 in prizes. |
Brooklyn Crafted, King's Brew Coffee, Guinness, detoxwater, Chi Kitchen, Banza, Chobani, MatchaBar, Red Bull, Simply Soupreme