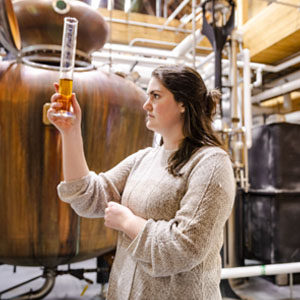 Don't try to sell consumers on what's missing from your products; instead emphasize and celebrate the best attributes of your brand. The hosts discuss this simple yet important distinction in this episode, which highlights several brands exhibited at the 2023 Summer Fancy Food Show, held last month in New York City.
This episode also features an interview with Liz Rhoades and Meghan Ireland, the head of whiskey development and chief blender, respectively, for renowned whiskey brand WhistlePig. Rhodes and Ireland spoke about WhistlePig's foray into single malt whiskey and how the company's new generation of whiskey makers is striving to break traditional boundaries through experimentation and novel production methods.
0:39: New Digs. Hot Dogs Are/Reduce Life. Cheese Cubes & Wine, But Not Exactly. Ringa Starr.

– The Newton-based hosts were blinded by the light (of their new studio) and discussed the relative value of a hot dog before they began a second round of sampling products from the Summer Fancy Food Show, including on whole food salty snacks, honey-based energy gels, cookie-crackers and plant-based cheese cubes. They also munched on "South Asian-American fusion" popcorn and sipped on canned wine analogs and moringa-based beverages during which John noted that college tours now highlight cheese-lovers clubs.

28:29: Interview: Liz Rhoades & Meghan Ireland, Distillers, WhistlePig –

Rhoades and Ireland spoke with Taste Radio editor Ray Latif about their respective backgrounds in the spirits industry and WhistlePig's expansion from rye whiskey into North American single malt whiskey category with the launch of an ultra-premium 21-year-old expression named The Beholden They discussed how the whisky fits into the company's "rebel" ethos, the craft of aging and blending and their perspectives on women in the whiskey industry.
Root Foods, You Again, Michele's Granola, Oat Haus, Rind Snacks, Carolyn's Krisps, Armored Fresh, Confusion Snacks, Dave's Killer Bread, Proxies, Sutter Home, Franzia, Ringa, PopChips, Smashmallow, Spudsy, WhistlePig