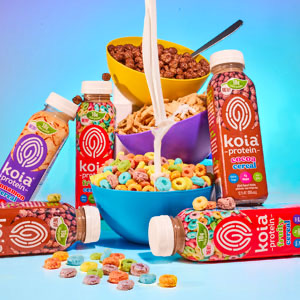 It's rare for a single independent consumer brand to generate $100 million in annual revenue. Chris Hunter has built two of them.
Hunter is the co-founder and CEO of plant-based beverage company Koia, a maker of refrigerated vegan protein shakes and smoothies that are sold nationwide at retailers including Whole Foods, 7-Eleven, Sprouts, Publix, Kroger and Safeway. 
Last month, Koia added another major retail partner: Starbucks. The brand's Vanilla Bean and Cacao Bean protein shakes are now available in the coffee chain's coveted cold cases. The addition of Starbucks adds approximately 9,000 stores to the brand's existing presence in more than 25,000 retail doors.  
Having crossed the $100 million threshold this year, Koia is on "a clear path to $200 million" in annual sales over the next two years, according to company president Mike Woolard. Hunter, who co-founded Koia in 2016 and also co-created and helmed controversial malternative brand Four Loko, is quick to praise his team for Koia's growth trajectory and highlighted its ability to navigate a rapidly evolving industry. 
In this episode, Hunter spoke about the importance of setting goals in both his personal life and in business, lessons from an aggressive retail strategy early into the brand's development, why self-manufacturing is key to profitability and the company's future, and how to optimize the roles of celebrity partners.
0:43: Interview: Chris Hunter, Co-Founder/CEO, Koia

– Hunter spoke with Taste Radio editor Ray Latif about why Koia's distribution at Starbucks is an example of perseverance paying off, how setting specific goals has benefited his personal life and why he was eager to expand distribution of Koia beyond the natural channel. He also spoke about the company's first month of profitability, why Koia shifted to a vertically integrated business model and how trends

fit into its innovation strategy and the development of a new cereal-inspired line.