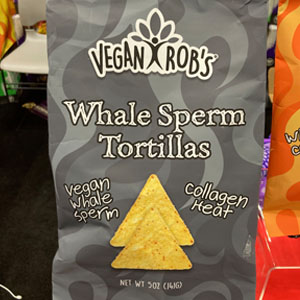 From sweet and savory salsa matcha and date-based energy snacks to craft cocktail tea bags and plant-based whale sperm tortilla chips (yes, we're serious), the hosts shared their thoughts on the best and most notable products exhibited at the 2023 Summer Fancy Food Show, which was held in New York CIty from June 25-27. 
This episode also features an interview with Dave Colina, the founder and CEO of O2 Hydration, who discussed the sport drink brand's repositioning and package revamp following the collapse of a major fundraising round.
0:44: Melissa's Name Rang Out. Crispy Beef? Yay! Let's Do A Shot. Mike Got Scolded… Again.

– BevNET's director of community Melissa Traverse offered her thoughts on the Summer Fancy Food Show before sharing a rundown of

recent and upcoming episodes of Community Call

after which the hosts discussed takeaways from the annual trade show, including the emergence of salsa matcha, global flavors and cuisines continuing to permeate snack and frozen food categories and the flavor quality that differentiates some non-alcoholic cocktails from others. After Jacqui recalled a recent visit to San Francisco, Ray shared highlights (including the oddest product at the show) from a quick meeting with Vegan Rob's founder Rob Eherlich and Mike blamed John for getting a scolding while visiting the Italian pavilion.

35:28: Interview: Dave Colina, Founder & CEO, O2 Hydration

– Colina spoke with Ray about how he navigated the shock and resulting challenges caused by a failed funding round, his decision to keep operating the business versus shutting it down, the research that went into O2's rebrand and how he weighed data and gut instinct when making a final determination about the new branding and design.
LoveLife, Partake Foods, C4, Rind Snacks, Lesser Evil, Fresh Fizz, Lentiful, Sunday Supper, Amazing Graze, Zwita, Melati, Yay's, Wilde Snacks, Tia Lupita, Somos Foods, Capitana, Annie's Ginger Elixir, For Bitter For Worse, Vegan Rob's, Pirate's Booty, Date Fix, Sayso, Kola Goodies, BTR Nation, Colicchio Collection, Magnolia Bakery, O2 Hydration, Poppi, BodyArmor, Gatorade