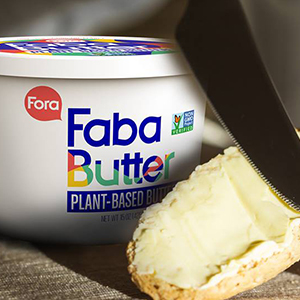 Ask most folks in the food and beverage business how the industry has evolved over the past decade and you'll likely hear the terms "natural, organic, and better-for-you" to name a few. But long before companies embraced the health and wellness fervor that permeates every aspect of the industry today, D'Artagnan Foods co-founder and CEO Ariane Daguin was paving a path for better food.
Born into a French restaurateur and food dynasty, Ariane is often recognized as one of the pioneers of organic, free-range chicken in the U.S. and since its founding 30 years ago, D'Artagnan has been committed to sourcing free-range, natural production and sustainable, humane farming practices from small farms and ranches.
Despite the industry's overarching tilt toward healthier food production, Daguin is adamant that "it's much more important to have good food, good tasting food, than food good for you." In an interview included in this episode of Taste Radio, she noted that for her customers, the priority is "to give them pleasure."
"For me, my upbringing, my culture in Southwest France, the most important thing in life is to enjoy good food," she said. "I'm not a doctor. I'm not a pharmacist. I'm not there to cure people. It happens to be a lot of time, what's good for you is good-tasting. And in my business, animal protein, it's certainly true."
Listen to our full interview with Daguin in which she shares her perspective on organic food and agriculture ("Right now it's not going in the right direction. There has a been a huge tendency by big ag to dilute the definition of organic.") and why she believes most inexpensive food is predicated on a "false premise" ("You forgot [you're paying] for the cost of the medication because you ate that crap.")
Also included in this episode: a conversation with Rao's Specialty Foods CEO Eric Skae. A longtime veteran of the food and beverage industry, Skae has been the trenches as an entrepreneur and executive over the past 25 years. At BevNET Live Winter 2017, he joined us for a conversation about his career, what's he learned about the business and how entrepreneurs can best prepare and succeed in the highly competitive industry. And in the latest edition of Elevator Talk, we chat with Doug Valdez, the co-founder of organic wellness shot brand Glide Immunity.
| | |
| --- | --- |
| | 1:57: You Fancy, Huh? — The hosts reminisce about tasty treats and notable potables from the 2018 Winter Fancy Food Show, including Fora Foods' Faba Butter, Amazing Chickpea spreads, Crave Nuts, Pan's Mushroom Jerky and Regrained snack bars. |
| | 11:24: Interview: Ariane Daguin, Co-Founder/CEO, D'Artagnan Foods — Daguin is one of the world's foremost experts on chicken. She's the owner, co-founder & CEO of D'Artagnan, a leading purveyor of foie gras, game meat, organic poultry, pâtés, sausages and smoked delicacies. D'Artagnan products are sold nationally to upscale restaurants and grocers and the company, which pulls in approximately $120 million in annual revenue, operates a robust direct-to-consumer business as well. We spoke with Ariane about her journey as an entrepreneur, her passion for food quality and efforts to educate consumers about the true definition of "better for you." |
| | 37:57: Interview: Eric Skae, CEO, Rao's Specialty Foods — Over his 25 years in the food and beverage industry, Eric Skae has helped grow a number of iconic and early-stage brands alike and is the co-founder of iced tea company New Leaf Brands. In our interview, Skae discussed the importance of working with people that you can trust and how to identifying those folks and why leaning on industry veterans for advice and guidance cannot be understated. |
| | 57:41: Elevator Talk: Doug Valdez, Co-Founder, Glide Immunity — Launched in October 2017, Glide Immunity is a shelf-stable and organic immunity/wellness shot made with oregano oil, ginger, clover honey, lemon juice, and orange juice. We caught up with Glide co-founder Doug Valdez at BevNET Live Winter 2017 where he spoke about the inspiration and business strategy behind his brand. |
Califia Farms, Fora Foods, Amazing Chickpea, Crave Nuts, Pan's Mushroom Jerky, ReGrained, D'Artagnan Foods, Rao's Specialty Foods, New Leaf Tea, AriZona, Monster Energy, Hansen's Natural, Snapple, Glide Immunity