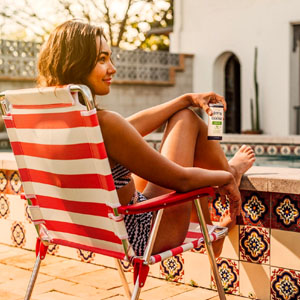 The adage "luck is what happens when preparation meets opportunity" is often quoted by successful entrepreneurs. And it would stand to reason that the more opportunities you have, the luckier you'll be. But how do you best position yourself to create more moments, chances and meetings that might change the trajectory of your business?
Austin Cocktails co-founders Kelly Gasink and Jill Burns, who founded the brand in 2012 and helped usher in a new era for premium RTD cocktails, say that the answer is two-fold: be okay with being uncomfortable and strive to "expand your luck surface area." Doing so helped them land deals with Madison Square Garden and Virgin America airlines. It also led to an unexpected and pivotal meeting with the CEO of Constellation Brands.
Introduced in 2016, Austin Cocktails markets full-strength canned cocktails made with premium spirits and natural ingredients. The products are distributed across the United States at a variety of retailers, including Whole Foods, BevMo, Target and Total Wine.
In this episode, Gasink and Burns explained how they identified the opportunity for a premium tier of RTD cocktails, why they didn't emphasize a specific target demographic, how an unorthodox but highly effective sampling strategy unlocked new retail and distribution opportunities, and how they assessed the timing for a sale of Austin Cocktails to Constellation Brands.
0:43: Interview: Kelly Gasink & Jill Burns, Co-Founders, Austin Cocktails

– Gasink and Burns riffed about eccentric weather patterns in Texas and Austin as a hub for entrepreneurship before discussing the impact of Skinnygirl on the development of the modern RTD cocktail category and how they initial spoke to retailers about the need for premium options in the space. They also spoke about the challenges in getting the products made, why "everything good happened" at sampling events and why maintaining the brand's core tenets amid growing competition paid off. Later, they explained how their personal and professional networks were instrumental in the brand's development and why basing innovation solely on data may not be the best strategy.