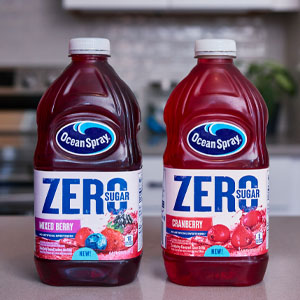 Why is a century-old apple orchard and cider company betting big on the future of cannabis? Eddie Brennan, the fifth-generation owner of New York-based Beak & Skiff, discussed its foray and continued investment into the cultivation of cannabis and production of THC-infused drinks. The company built and operates a 20,000 sq. ft manufacturing and co-packing facility dedicated to the cannabis beverages, one that Brennan described as the largest on the East Coast.
Also in this episode: the hosts' take on Ocean Spray's new line of zero-sugar juice (and why an asterisk is involved) and what Travis Kelce, Michael Bublé and Matthew McConaughey now have in common.
0:35: Wrong Pipe. White Out Is Not Nail Polish. Secret Spray. That Was Swift. We Don't Need No Pants.

– Ray kicked off the show by explaining how he choked on his ride to the office, the hosts collectively agreed that "White Out" had its day and is not to be sniffed, and expressed skepticism about Ocean Spray's new products and how consumers may perceive them. They also riffed on Travis Kelce's new brand of refrigerated entrees, which of three new celebrity-backed beverage alcohol brands has the best shot of being successful, a "pointless" ginger ale and why Jacqui's instant review of a particular drink brand is not to be missed.

30:12: Interview: Eddie Brennan, CEO, Beak & Skiff – Brennan spoke about taking the reins of his family's business, the reason for entering the cannabis space and how Beak & Skiff's customers reacted to the move and what he views as the trajectory for cannabis beverages. He also discussed the company's education strategy, inducing trial via a new 1 mg THC variety and the challenges of marketing cannabis on social media..
Beak & Skiff, 1911 Established, Ayrloom, Essentia, Fly By Jing, Ocean Spray, Travis Kelce's Kitchen, TB12, Unreal Candy, Tequila Pantalones, Casamigos, Fraser & Thompson, Vosa Spirits, Pointless Ginger Ale, Lifted Supreme, Bobo's, Uncrustables, Rudi's, Chubby Snacks, Better Than Booze, Superfrau, Spare Tonic