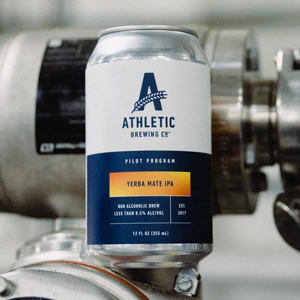 When they produced their first batch of non-alcoholic beer in 2017, Athletic Brewing Co. co-founders Bill Shufelt and John Walker knew they were on to something special. They may not have realized, however, they were brewing a revolution.
Founded in 2017, Athletic Brewing has emerged as one of the fastest growing beverage companies in the U.S. and is leading the charge for a burgeoning cohort of zero-proof alcohol alternatives. According to industry trade group The Brewers Association, Athletic is the 13th largest craft brewer in America and the leading producer of non-alcoholic craft beer. Its products are distributed in all 50 states and available at over 50,000 retail stores nationwide, including Walmart, Costco, Publix, Target and CVS.
Amid surging demand – Nielsen data from March showed annual dollar sales of the brand up 94% – Athletic has invested heavily in production. The company operates brewing facilities in Connecticut and San Diego, built in part from the $173.5 million in outside capital the company has raised, including a $50 million investment from Keurig Dr Pepper in November 2022.
In this episode, Shufelt and Walker spoke about Athletic's role in the evolution of alcohol-alternative beverages and its influence on how consumers perceive them, why it's in the company's interest to support competitors and how it does so, how they evaluate new retail and distribution opportunities and where resources are best utilized, and how they stay grounded amid continued growth and industry hype.
| | |
| --- | --- |
| | 0:43: Interview: Bill Shufelt & John Walker, Co-Founders, Athletic Brewing – Taste Radio editor Ray Latif met with Shufelt and Walker at Athletic Brewing's facility in Milford, Connecticut, where they discussed the brand's outsized growth over the past two years, why they feel a responsibility to support competing brands in the nonalcoholic beer category, and how has how they have maintained the quality of their products amid exponential growth. They also spoke about why they prefer in-house staffing to outsourced help, how they consider entering new retail channels, including convenience stores, and why they are guided by Athletic's long-term vision amid speculation about a potential exit. |