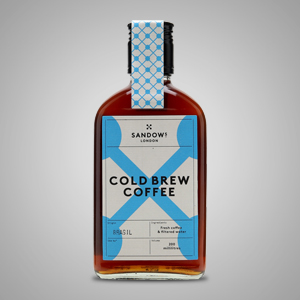 While cold brew has been the fastest-growing segment of the U.S. coffee business in recent years, it's just now starting to heat up across the pond.
London-based Sandows is one of a handful of British coffee companies paving a path for cold brew in the U.K. and was first to market in the country, according to co-founder Hugh Duffie. Taking their cue from speciality coffee brands in the U.S., Duffie and co-founder Luke Suddards created a foundation for Sandows based on direct trade sourcing and ultra-high quality brewing. But Duffie and Suddards knew that the liquid was only one part of the equation. To elicit interest from U.K. consumers who are mostly still unaware of the concept of cold brew coffee, they developed distinctive branding and packaging that could, in Duffie's words, "sell the product without people even needing to try it."
"We wanted people to get excited the way that we did when we would order these products from the U.S.," Duffie said in an interview included in this episode. "We wanted to create something that felt true to our experience of that specialty coffee culture."
Hear more from Duffie in the following interview in which he discussed the impact Sandows' package design has had on awareness and sales. He also spoke about the company's efforts to expand the market for cold brew in the U.K., how it is educating British consumers about premium coffee and its product and innovation strategy.
1:25: Keep It Elevated — The hosts discussed the recent and abrupt shuttering of Pilotworks and riffed on recent office visits, sights and libations from BevNET CEO John Craven's visit to London, and notable new products sent to BevNET HQ. Please note that after episode 5, Taste Radio Insider will only be available on a single feed. If you haven't already,

subscribe today

and don't miss an episode.

18:22: Interview: Hugh Duffie, Co-Founder, Sandows — In an interview recorded in London, BevNET CEO John Craven sat down with Duffie for wide-ranging interview that includes his background in the coffee business and what inspired him and co-founder Luke Suddards to launch Sandows. They also discussed the gradual development of coffee culture in the U.K. and how Sandows is positioning itself in the nascent space, the development of the brand's packaging and name, and the reasoning behind the company's wide range of products.
6AM Health, SpiritFruit, Belgian Boys, OHi Superfood Bars, Neimand Dry Gin, Splinter Group Spirits, Batisite Rhum, R.W. Garcia, Fritos, Sandows